8 Best Chews for Chihuahuas 2023 (Natural & Healthy)
Are you looking for the best chews for Chihuahuas?
Chihuahuas, being one of the smallest dog breeds, require special attention when it comes to choosing the perfect chews and dog bones.
It is very important to select chews that contain healthy ingredients and are appropriately sized for their small mouths.
Finding the perfect bone or chew for your Chihuahua can be tricky as there are a wide range of sizes, ingredients, and flavors which can leave you feeling overwhelmed.
But don't worry, we have done the testing and research for you!
As Chihuahua parents ourselves, we've had several years to test out all kinds of bones and chews on our Chihuahua, Leo.
He has chew time after his evening walk and has enthusiastically shown us which are his favorites.
Whether you're a new Chihuahua owner or your Chihuahua is bored of the same old chews, keep reading to discover the best chews for Chihuahuas.
Disclosure: this post may contain affiliate links, meaning we get a commission if you decide to make a purchase through our links, at no extra cost to you.
Top 3 Picks: Best Chews for Chihuahuas
8 Best Chews for Chihuahuas
We've carefully selected a list of the best healthy chews for Chihuahuas, keeping their size and preferences in mind.
Enjoy browsing through our top picks to find the perfect chew for your furry friend!
Remember to always supervise your dog while they enjoy these chews and provide them with fresh water for hydration.
Natural Farm Trachea Chews are here to steal the show, especially for small Chihuahuas.
These little wonders aren't just delicious – they're like a joint health superhero.
The 3-inch size is perfect for your petite pup, and they're like a goldmine of glucosamine and chondroitin, natural compounds that are great for their hips and joints.
These are one of the best dog bones for Chihuahuas.
Now, let's talk quality.
These chews come from 100% grass-fed, hormone-free Brazilian beef.
And they're not just about taste – they're like a gym session for your pup's mind and teeth.
Plus, they're fully digestible and won't splinter, so your Chihuahua can enjoy every nibble without worries.
Bottom line?
These trachea chews are like a nutritional gift that keeps on giving.
They'll make your Chihuahua's joints happy while keeping them thoroughly entertained.
Pros
Packed with glucosamine and chondroitin for joint health
Made from 100% grass-fed Brazilian beef
Digestible and splinter-free
Single ingredient (100% beef)
3-inch size is perfect for small Chihuahuas
Cons
Slightly odd smell when chewed but not overpowering
Fieldcrest Farms Nothing to Hide Twist Stix are an excellent rawhide alternative for Chihuahuas and easy on their stomachs.
We tried these Twist Stix for our Chihuahua and were impressed with the quality.
The chews are rawhide-free, which means they are easy on dogs' stomachs, making them a fantastic alternative to traditional rawhide chews. 
They're like a flavor fiesta with options like chicken, beef, bacon, and peanut butter. Yep, your pup's taste buds are in for a treat.
But it's not just about taste – these Twist Stix pack a punch with a whopping 75% protein and all those must-have nutrients. So, it's not just delicious, it's nutritious too.
Worried about choking or digestion? No need!
These chews are all about gelatin goodness, which means they're easy to digest and won't turn into a choking hazard.
So, wave goodbye to those rawhide worries and say hello to a chew that's got your Chihuahua's back.
Pros
Rawhide-free and easy to digest
Several flavors to choose from
Low calorie, 75% protein
Cons
Consumed quickly by some dogs
Can give your dog soft stool if you give too many in one day
Natural Farm Collagen Chews are tailor-made for Chihuahuas in need of a long-lasting, all-natural chew that's a single-ingredient superstar.
These chews are crafted from 100% natural beef skin, giving your pup a healthy, digestible option that's a real winner over traditional rawhide.
Our little Chi enjoys these chews, as they have quickly become one of his favorite dog bones.
They're made from ethically-raised, grass-fed beef, so you know you're treating your furry buddy to top-notch quality.
And get this, they're loaded with a whopping 95% natural collagen, which not only keeps joints, skin, and coat in tip-top shape but also gives that fur coat an extra touch of shine.
And let's face it, a glossy coat is always a plus!
Our Chihuahua's coat became shinier after regularly having these chews.
But wait, there's more!
These chews are the indoor champs – no nasty odors here.
So, you can keep your space smelling fresh while your Chihuahua chews away.
And the grand finale?
These long-lasting collagen chews are like a puzzle for your pup's mind and mouth.
They'll stay occupied and content, and you'll be waving goodbye to destructive chewing shenanigans.
It's a win-win for you and your pup!
Pros
Highly digestible and rawhide-free
Made from free-range, grass-fed Brazilian beef
Promote healthy joints, skin, and coat
Very long lasting
Single ingredient
Cons
6-inch size might be too big for teacup Chihuahuas
Afreschi Turkey Tendon Dog Treats are perfect for Chihuahuas due to their high-quality ingredient, dental benefits, and hypoallergenic properties.
Our Chihuahua goes crazy for these turkey tendons.
And let us tell you, there's good reason.
These treats are made right here in the US from pure turkey tendon – 100% pure, no additives, chemicals, or preservatives.
That's a win on the health front, giving you another solid alternative to rawhide.
These slow-roasted, high-protein, low-fat gourmet dog chews will become a hit in your house.
Here's the nifty part: Chihuahuas often deal with dental issues, but these soft chews have a secret weapon.
As your pup chomps away, the natural chewing action works its magic, helping to keep plaque and tartar at bay.
So if you're all about a healthy, scrumptious, and dental-friendly treat for your beloved Chihuahua, these should definitely be on your radar!
Pros
Easy to digest
Made from 1 single ingredient
High protein, low fat
Hypoallergenic
Made from US-sourced turkeys
No odor
Cons
Consumed quickly, best as a treat
Looking for the ultimate long-lasting chew for your Chihuahua?
Look no further than I and Love and You No Stink! Bully Stix.
One thing that sets these bully sticks apart is their odor-free superpower.
Yep, no stinky surprises here.
It's a feature that'll make them more appealing to dog owners by reducing unpleasant smells.
And speaking of happy pups, our Chihuahua goes absolutely nuts for these bully sticks.
They're made from free-range, grass-fed beef – a single-ingredient wonder that's a safe and wholesome swap for rawhide.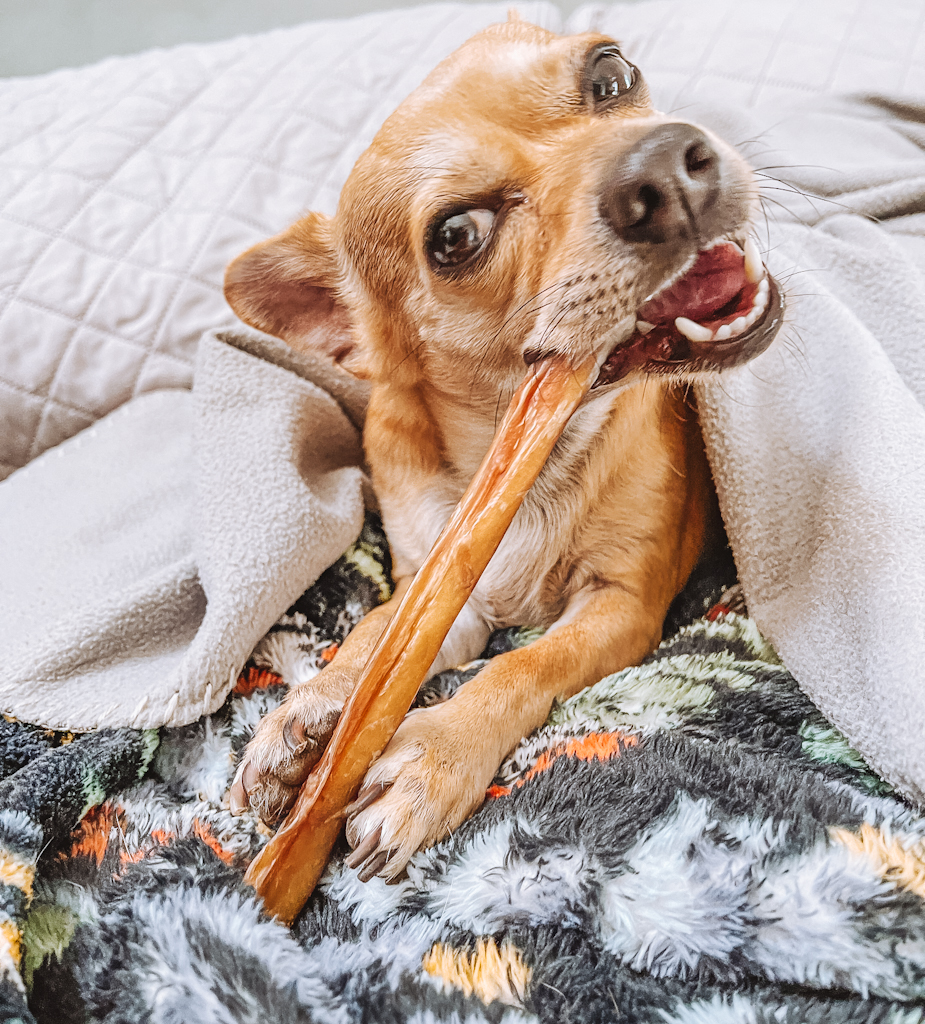 And here's a bonus: these No Stink Bully Stix are like mini toothbrushes.
They help tackle plaque, tartar, and keep those pearly whites in tip-top shape.
But it doesn't end there.
These bully stix are like entertainment central for your pup.
They're tough and built to last, offering a chewing experience that'll keep boredom at bay.
Sure, the price might be a bit higher, but honestly, the quality makes it worth every penny.
Pros
Made from free-range, grass-fed beef
Single-ingredient, highly digestible chew
Promotes dental health
Very long lasting
Protein rich
Cons
Contains pizzle which is bull penis
Some say it does have a bit of odor
BRUTUS & BARNABY Premium Cow Ears are here to steal the show – and for good reason.
First off, they're all-natural and straight from 100% grass-fed cattle.
That means no funky hormones or sneaky additives that could mess with your pup.
Plus, they keep their natural color and texture because they're unbleached – talk about the real deal.
Now, these cow ears are thick-cut wonders that your Chihuahua will go bananas for.
They're like the superheroes of rawhide-free options and low-fat chews.
Think of them as the perfect alternative to things like fatty pig ears and traditional bones.
But here's the kicker: these cow ears are champs in the digestion department.
Made from soft cartilage covered in thin skin, they're gentle on those doggy tummies.
No splintering, no crumbles, and zero funky odors in your home.
These cow ears are seriously huge – bigger than our 10 lb Chihuahua's head, so they will last a long time!
If your Chihuahua is a bit smaller, no worries.
You can opt for their cow ear slivers or just grab some scissors and snip 'em down to size. 
Sure, the price might be a tad higher than some other dog chews, but trust us, the quality is well worth the investment for these healthy, rawhide-free chews.
Pros
Sourced from 100% grass-fed cattle
Unbleached, no added hormones or preservatives
No odor, easy to digest
Lower in fat than pig ears
Long lasting
Also come in cow ear slivers for smaller Chihuahuas
Cons
Honest Kitchen Ocean Chews are here to make your dog's tail wag for all the right reasons.
These chews are like a gift from the sea, made with super high-quality cod fish skins that come from sustainable fishing practices.
These are a single-ingredient superstar – perfect for pups with special dietary needs or allergies.
And let's talk about those omega-3 fatty acids packed in these chews.
They're like a coat and joint superhero, keeping your pup's fur shiny and those joints happy.
Here's a bonus: if your Chihuahua's tummy isn't a fan of rawhide, these chews are a winning alternative, especially for smaller breeds, like your Chihuahua.
The Honest Kitchen's got your pup's back with their human-grade ingredient policy.
You can trust that your furry friend's snack is safe and nutritious.
These chews have a moderate chew time.
These chews do have a bit of a fishy odor.
So, if that's not your jam, we suggest letting your pup indulge in the great outdoors or a well-ventilated area.
After all, happy pups are the goal here!
Pros
Made from 100% Cod skins
Healthy rawhide alternative
Human-grade ingredients
Sustainably sourced
Rich in omegas and high in protein
Cons
Moderate chew time
Fishy odor
Native Pet Yak Chews are crafted with organic ingredients using traditional processing techniques.
These chews keep it simple with just four ingredients: organic yak's milk, organic cow's milk, salt, and lime juice.
But don't let the simplicity fool you – they're loaded with protein, amino acids, and fatty acids that are like a nutritional goldmine for your pup.
What's great is that these chews are low on the odor scale, which is a plus if strong smells aren't your thing.
And here's the kicker: Native Pet Yak Chews are a friend to sensitive tummies.
They're protein-rich, grain-free, and lactose-free, making them gentle for those pups with sensitive tummies.
These chews are known for their durability.
They are like the Hercules of dog bones.
They're designed to handle the mightiest of chewers and they're great for keeping that tartar in check, boosting your pup's oral hygiene game.
They can be on the harder side, so supervision during chewing is a must
Here's a cool twist: when the chew gets down to its last bits, just pop it in the microwave for a quick 30-45 seconds and voila, you've got a tasty treat!
Pros
Simple, organic ingredients
Low odor
Long-lasting
High in protein
Cons
Contains dairy
Not for dogs with dental or jaw issues
Are Rawhides Bad for Dogs?
As dog owners, we always want the best for our furry friends, especially when it comes to treats and chews. One popular choice has been rawhides, but there are concerns regarding the safety of rawhides, particularly for smaller breeds like Chihuahuas.
The main issue with rawhides is the choking hazard they pose. Chihuahuas, being a small breed, are at an increased risk of choking on large pieces of rawhide.
The production process of rawhides also raises some concerns. Rawhides are often bleached and dyed to appear more attractive to consumers. This can involve the use of harsh chemicals and glues that may not be safe for dogs.
It's also worth noting that not all rawhides are created equal. Some lower-quality rawhides, particularly those made in China, have been associated with safety concerns due to potential contamination or poor manufacturing practices.
Some alternatives to rawhides are:
Rawhide alternative chews: These chews look like rawhide but they are made from rice flour, tapioca flour, or potato starch. These bones are easier to digest and won't cause choking. One example is Fieldcrest Farms Rawhide Alternative Twist Stix.
Dental chews: Specifically designed to help clean your dog's teeth, dental chews are available in various sizes and shapes suitable for Chihuahuas. Some dental chews have way too many ingredients. We recommend Crumps' Naturals Original Plaque Busters which only has 4 natural ingredients.
Single-ingredient natural chews: Natural, long-lasting chews that are less likely to splinter like rawhide. These include turkey tendons, trachea, collagen chews, bully sticks, and cow ears.
If you are going to buy rawhides, we recommend looking for products made in the USA, as they are manufactured according to higher safety standards. Take precautions and always supervise when giving rawhides to small dogs like Chihuahuas to reduce the chances of them choking.
Buying Guide
As dog owners, it's crucial to find the perfect chew for our canine companions.
When shopping for healthy dog bones and chews, there are several factors you should consider. Here's a helpful guide on choosing the best, natural chews for your Chihuahua.
Size and Texture
Select chews that are appropriately sized for your Chihuahua's smaller mouth and, at the same time, able to withstand their strong bite. Avoid purchasing chews that can easily break apart or be swallowed whole, as this can pose a choking hazard.
For seniors and dogs with dental issues, consider bones or chews with softer textures like turkey tendons or Fieldcrest Farms Rawhide Alternative Twist Stix.
Chew Duration
Consider the durability and longevity of the dog bone. For avid chewers, choose bones made from durable materials that can withstand prolonged chewing without easily breaking or splintering. Bully sticks, collagen chews, and cow ears are very long lasting.
Avoid bones that are too hard and may cause dental damage like antlers or hooves.
Natural Ingredients
Opt for chews made from natural, high-quality ingredients. Avoid products containing artificial flavors, colors, or chemical preservatives.
Natural single-ingredient chews, like those made from animal parts like cow ears or trachea, can offer essential nutrients and a satisfying chew experience for your dog. These chews are often free from artificial additives and bleaching.
Digestibility
Ensure the chew you select is easily digestible for your Chihuahua, as this aids in preventing gastrointestinal issues. All the chews we listed in this blog post are easily digested.
Avoid Nylabones because, over time, small plastic bits break off from the Nylabone as dogs chew on them. These plastic fragments can pose a choking hazard if swallowed or can irritate the digestive tract.
Another issue is that chewing on Nylabones can lead to sharp edges forming. These sharp edges can potentially cause injuries to a dog's gums, tongue, or other parts of their mouth.
Safety
Always put safety first when selecting a chew for your Chihuahua. To ensure your dog's safety, avoid chews with sharp edges, hard materials prone to splintering, or those made with pieces that can easily break off.
What are the Benefits of Chews and Bones For Dogs?
Dental Health
Chewing on appropriate chews and bones can help maintain good dental hygiene. The action of chewing can help remove plaque and tartar buildup, reducing the risk of gum disease, tooth decay, and bad breath.
Mental Stimulation
Chewing engages a dog's mind and provides mental stimulation. It can help alleviate boredom and prevent destructive behaviors resulting from a lack of mental stimulation.
Chihuahuas are pretty smart and high-energy, so they need an appropriate amount of exercise and mental stimulation every day.
Stress Relief
Chewing can be a natural stress reliever for dogs. It helps them release pent-up energy and can provide a calming effect, especially during periods of anxiety or when adjusting to new environments or situations.
If your Chihuahua is barking a lot or crying and whining due to stress, giving them a chew can help calm them down.
Jaw and Muscle Strength
The act of chewing exercises a dog's jaw muscles, helping to strengthen them. It can also promote overall muscle development in the head and neck area.
Behavior Management
Chews and bones can serve as a positive outlet for a dog's natural chewing instinct. You can redirect their chewing behavior away from destructive items like furniture or shoes by providing appropriate chews.
Nutritional Benefits
Some chews and bones are designed to provide additional nutritional benefits. Natural chews made from high-quality ingredients can offer protein, vitamins, and minerals that contribute to a well-balanced diet. For example, chews containing collagen can improve joint health and promote a glossy coat.
Teething Relief for Puppies
Teething is a natural process for puppies as their baby teeth make way for their adult teeth. During this phase, puppies may experience discomfort and a strong urge to chew. Offering appropriate chews and bones can help soothe their gums and redirect their chewing behavior.
Tips for Safe Chewing for Your Pup
When selecting the perfect dog bone for our Chihuahuas, it's important to prioritize their safety while still providing them with a satisfying chewing experience. In this section, we'll share a few tips to help ensure safe and enjoyable chewing for your pup.
Choose a chew or bone that is slightly larger than your dog's mouth, to avoid the risk of swallowing or choking on the bone. Make sure the chew will not splinter or break apart into pieces bigger than your Chihuahua should swallow.
Routinely monitor the condition of the bone your Chihuahua is chewing. As they begin to wear down, we should replace them with a new one to prevent accidental ingestion of small or sharp fragments that could harm our pup's digestive system.
Supervision is key when providing our Chihuahuas with a chewing bone. While they may seem content and in control, it's our responsibility to keep an eye on them to prevent any complications, such as choking or ingestion of harmful fragments. When a chew or bone gets too small, it's necessary to remove it.
Always inspect your dog's teeth after a chew session to ensure there are no fractured teeth or pieces stuck in their teeth or gums.
Summary
Choosing the best chews for Chihuahuas doesn't have to be a daunting task!
We've explored the top 8 chews that are perfect for Chihuahuas and have discussed their benefits. These bones can aid in maintaining good dental health, keeping your Chihuahua entertained, and supplying essential nutrients.
While choosing the right bone, it's essential to consider the size and ingredients. Some Chihuahuas could be sensitive to certain ingredients or need soft chews due to dental issues, so we recommend taking the time to select the ones that suit your dog's needs.
Remember, moderation is key. It's crucial not to overfeed your Chihuahua with chew bones and to monitor them while they enjoy their tasty treats.
Be sure to consult with your veterinarian if you have any concerns or questions regarding your Chihuahua's diet or the appropriate dog bones for them.
FAQs
Can Chihuahuas Have Bully Sticks?
Yes, Chihuahuas can have bully sticks. Bully sticks are a popular and safe option for Chihuahuas as long as they are appropriately sized for their small jaws. These natural chews, made from dried bull pizzles, provide a long-lasting and enjoyable chewing experience for dogs.
Can Chihuahuas Have Rawhide?
Chihuahuas may face potential dangers from rawhides, such as the risk of choking and digestive problems like obstructions. Rawhides can undergo bleaching and may contain preservatives and glues.
It's best to explore safer alternatives to rawhides like bully sticks, collagen chews, trachea, or dental chews.
What Do Chihuahuas Like to Chew On?
Chihuahuas like to chew on chew toys, Kongs, dental chews, and natural meat-based chews like bully sticks and tracheas. They also enjoy chewing on rope toys to help satisfy their chewing and tugging instincts. Avoid Nylabones as they tend to shed plastic fragments that could potentially be swallowed.
What Bones Should Dogs Not Chew On?
Dogs should never chew on cooked bones, such as cooked chicken bones or steak bones. Cooking makes bones brittle and prone to splintering, which can cause serious injuries to a dog's mouth, throat, or digestive system.
Bones that are small, thin, or easily breakable should be avoided. Steer clear of tough chews like antlers as they have the potential to cause tooth fractures.
Can I Leave My Dog Alone with a Chew Bone?
Dogs should never be left alone with a chew bone. Some dogs are more prone to aggressive chewing or may try to swallow large pieces, which can pose choking or blockage risks. If you're introducing a new type of chew bone, it's recommended to supervise their initial interactions with the bone to ensure they are chewing it safely and it doesn't cause digestive upset.
If you need to leave your dog alone for an extended period, it may be more prudent to provide alternative forms of entertainment, such as puzzle toys or interactive treat dispensers.
How Often Should I Give My Chihuahua Chews?
The frequency depends on their individual chewing habits, size, age, and dietary needs. Chews should be given in moderation as excessive consumption can lead to weight gain or digestive issues.
Maintaining a balanced and varied diet is essential, so chews should be considered as a supplement to their regular meals and treats.
Related posts: